Revita Skin Clinic chooses to use only the best devices available on the market, which is why we use dermapen for skin needling.  Dermapen Skin Needling is minimally invasive and provides exceptional results in skin rejuvenation.
Dermapen uses oscillating medical-grade micro-needles to gently glide over the skin. The micro-needles are adjustable, ranging from 0.25mm to 2.5mm in length. This allows us to better tailor your dermapen treatment plan and target your skin at varying depths. Dermapen Skin needling causes microscopic wounds to promote the skin's natural healing process, which encourages the production of new collagen. Collagen growth is crucial in skin repair. Skin needling is designed to improve skin texture, smooth wrinkles / fine lines, soften scars and stretch marks. It is suitable for all skin types and all areas of the face and body.A topical anesthetic is applied prior to the treatment to minimize discomfort so all that is felt is a mild pressure.
Unlike dermal rollers, Dermapen is a pen-like device that uses disposable surgical-grade needle cartridges for precise and sterile contact with the skin.
Typically, Four – Six treatments are recommended depending on the concern, and are usually spaced approximately four weeks apart for best results. At the time of your initial consultation we will discuss with you your skin goals in order to determine the number of treatments you will need and the appointment spacing you require.
Dermapen can be used to treat many different skin conditions, including:
Fine lines and wrinkles
Sagging, loose skin
Enlarged pores
Acne scarring / scarring
Stretch marks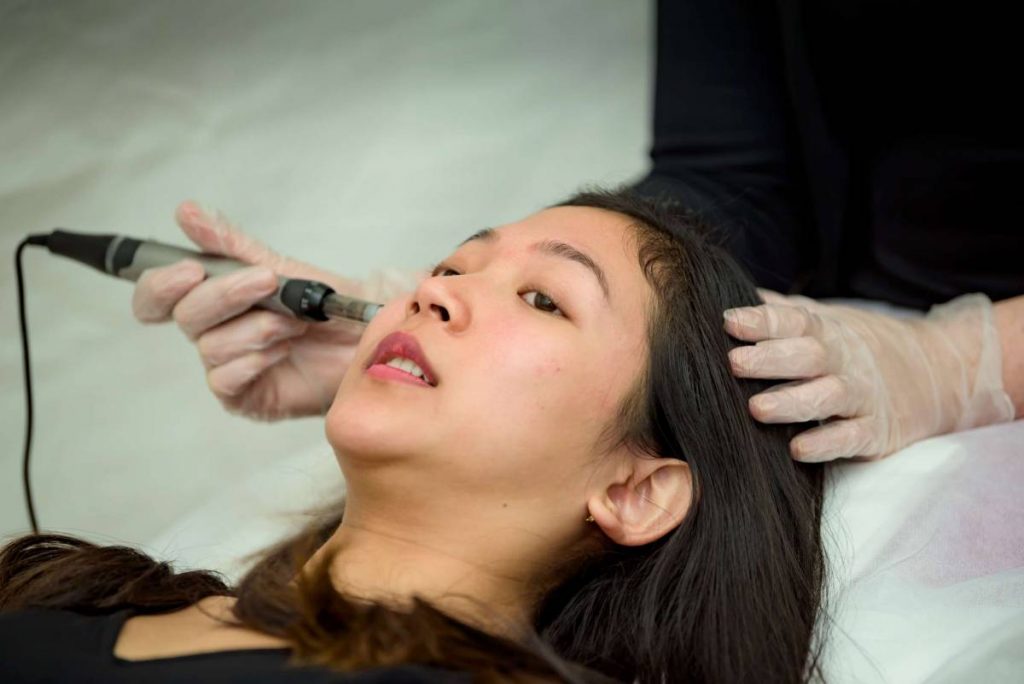 Stop the use of active products such as retinols and other chemical exfoliating agents 3 days prior to appointment

Avoid having any skin treatments two weeks prior to appointment

Avoid any form of hair removal 3 days prior to appointment

Refrain from sun exposure, fake tan use and solarium use for two weeks prior to treatment
Drink plenty of water
Avoid sun exposure for a minimum of one week and always protect the skin with an SPF 50+
Avoid the use of makeup for 24 hours post treatment
Avoid active products for a week post treatment, your clinician will advise you on a gentler post treatment skincare routine