Microdermabrasion is a quick, effective, and non-invasive treatment.
Microdermabrasion is a quick (so quick that it can be done in your lunch break!!) , effective, and non-invasive treatment. A microdermabrasion gently removes the outermost layer of dead skin cells from your skin, leaving you with re-energized fresher-looking skin. Microdermabrasion not only helps those with problematic skin conditions but is also used to maintain a healthy complexion and keep the skin looking youthful.
In addition to keeping healthy skin looking young and smooth, microdermabrasion can be used to a range of skin conditions, including:
Acne
Pigmentation
Sun damage
Congested pores
Fine Lines
Uneven skin tone and texture
Dullness
Dehydrated skin
We have two different microdermabrasion treatments available, an express 30-minute microdermabrasion and our more advanced microdermbrasiaion, which includes mechanical exfoliation followed by a peel being performed to provide the skin with a much-needed boost of anti oxidants. The advanced microdermabrasion treatment lasts for one hour.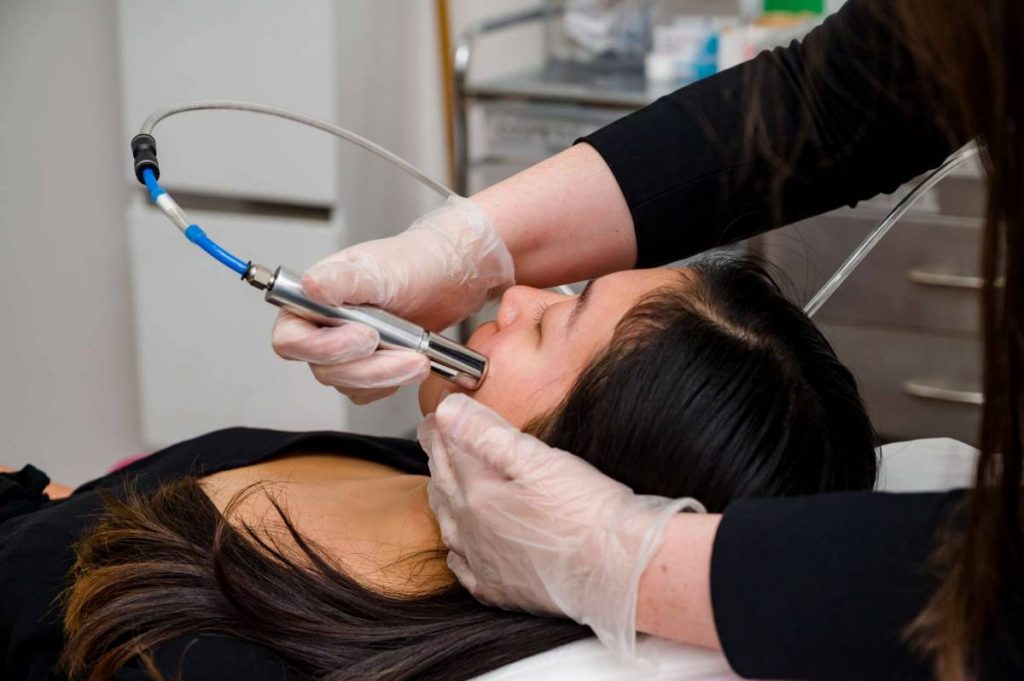 Our express microdermabrasion is great for those whom are time poor or simply just for those looking for a quick skin pick me up. It involves the skin being resurfaced through mechanical exfoliation and infusion of a serum targeted for your skin concerns.  An express microdermabrasion treatment lasts for about 30 minutes.  It is the perfect treatment to have in between other skin treatments such as Peels; Skin Needling in order to maximize your skin results
For those with particular skin concerns like acne or pigmentation we recommend our more advanced microdermabrasion includes a skin peel selected for your concern.
As a result of the exfoliation and increased circulation, your skin may appear slightly red following treatment and it may feel tighter.
For the best results we encourage you to have a treatment every 4 weeks as a normal healthy skins cell cycle takes 4 weeks.
While microdermabrasion is completely safe, in order to maximize the effectiveness of the treatments, it is recommended that you avoid certain activities.
If you have undertaken a basic microdermabrasion treatment, we recommend you:
Avoid excess sun exposure/ solarium use and apply a SPF 50+ sunscreen every day.
Avoid chlorinated pools, saunas, steam rooms, and vigorous exercise for 24-48 hours
Avoid hair coloring for 48 hours
Do not wax, use depilatory creams, or bleach on the treatment area for 1-2 weeks
If you have undertaken an advanced microdermabrasion treatment, we recommend you:
Avoid excess sun exposure/solarium use and apply a high-quality sunscreen every day.
Avoid the use of Retinol and Glycolic Scrub for 5 days post treatment
Use post-care products as recommended by your clinician
Avoid chlorinated pools, saunas, steam rooms, and vigorous exercise for 24-48 hours
Avoid hair coloring for 48 hours
Do not wax, use depilatory creams, or bleach on the treatment area for 1-2 weeks