Spider Veins are very small veins sitting on the very outer 
of our body.  Spider veins can appear on the skin blue, purple and red in colour and web like, branch like or even just fine lines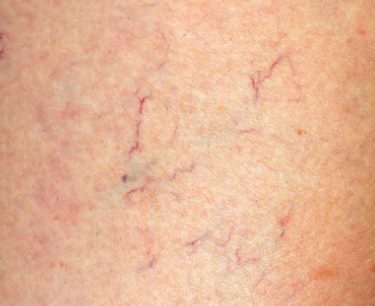 in terms of shape.  These types of veins are veins in which are no longer functioning and thus they are no longer fulfilling their role. This means that these veins are no longer able to transport blood effectively, instead these veins are collecting the blood.  Veins carry deoxygenated blood towards our heart for a replenishment of oxygen.  Veins can best be visualized as one-way roads, which will either lead to the heart or away from the heart. This is as structurally veins have one-way valves located on their walls. These valves are what prevent the blood flowing backwards with gravity.


 Veins can either be deep inside the bodies or can be superficial and closer to the surface. Superficial veins, which are closest to the skin will drain into these deeper veins. This process all happens via a network of junctions. Our venous system is devised to pump blood throughout the body and so when veins become weak and no longer fully functioning, faulty veins can collect and hold onto blood a lot more compared to what healthy veins do. As a result, the veins will bulge, in term putting strain on the valves in the vein. These valves will eventually start failing meaning the vein can no longer function properly and thus is now considered to be dysfunctional.
There are other types of incompetent veins that may also present with spider veins. This may mean these other veins will have to also be treated in order to treat and manage future spider veins.  These other dysfunctional veins are varicose veins, which are larger and bulge above the skin.  Reticular veins are also dysfunctional veins, which are larger and somewhat deeper underneath the surface of the skin. Varicose veins for example can cause spider veins to arise due to the blood flow not being appropriately managed alongside pressure.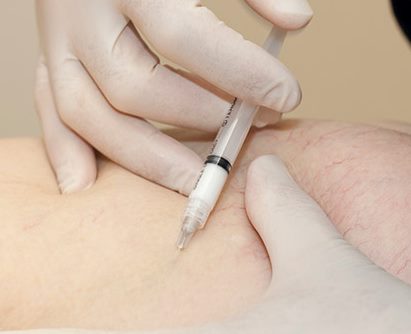 Anyone is at risk for developing spider veins however there are certain triggers/ key events that make some people more susceptible to developing them.  These are:
Genetics à there is believed to be a genetic link in spider vein development
Women are more likely to develop these spider veins earlier on then males.
In women, hormones at different ages will worsen veins, these are key events such as puberty, pregnancy, menopause and contraceptive pill.
As we age the risks of development increase. If we stand a lot, are heavily over wright, have thrombosis/ previous injuries or just don't move around a lot, we are making ourselves more susceptible to spider vein development.
The main treatment for spider veins in sclerotherapy.  During a Sclerotherapy treatment, a small amount of solution is injected into the superficial veins/blood vessels and any venous malformations (blue coloured veins).  This creates inflammation of the walls of vessels, this leads to the vein shutting down and disappearing over the subsequent few weeks to months. Sometimes multiple treatments may be needed.  Very fine veins may also be treated with laser therapy. Pain is usually not an issue with spider vein treatments. Dr. Reza is very skilled and will endeavor to make the treatment as comfortable for you as possible.  Patients are typically able to resume normal activities almost immediately after having a treatment. Walking for at least 30 minutes a day is strongly encouraged, particularly in the few days following treatment. Intense exercise i.e. weight lifting or cardio classes should be avoided during this time. Compression garments are a must for the first two weeks following treatments and are to be worn daily.  It is important to note in some cases there may be some mild bruising of the skin post treatment at the injection site. This is only temporary and resolves within a week or so.